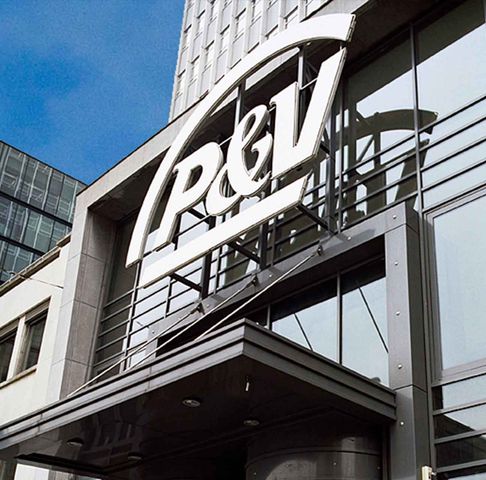 P&V Group: data transmission at high speed and with excellent availability
The P&V insurance group has been using Eurofiber for a number of years to transmit data at high speeds and with excellent availability. 
Contact
Would you like to know more about our solutions?
We would be happy to help you.
The P&V insurance group has been using Eurofiber for a number of years to transmit data at high speeds and with excellent availability. Together, they have set up a robust and redundant solution that interconnects the datacenters at the Group's two main sites. By using Eurofiber's fiber optic network P&V's 1850 employees are able to offer customers the best in insurance services – both directly and indirectly.
Incorporating a new entity into the Group
in 2007, exactly a century after the company was formed, when P&V decided to acquire ING insurance, the Group took a stride forward of an entirely different calibre. In actual fact, the company doubled in size. As a result of the takeover, P&V was handed a truly tough technological challenge. The previous datacenter, located at ING Insurance's former offices in Antwerp, was to be used as backup storage infrastructure for the Group. In addition, the 700 new employees who came as part of the merger also had to be incorporated into the P&V network.
A vital link between the datacenter
After comparing tenders from Belgium's leading telecoms providers, the P&V Group opted for Eurofiber. "Eurofiber's proposal appealed to us the most, both financially and technically," says Mark Scheers, Global Vendor Manager of P&V Group. "They had just the right infrastructure and understood our needs perfectly. We signed a contract for 5 years straight away, which is unusual for us. But we didn't have any regrets – we even renewed and extended our collaboration with Eurofiber in 2012." The solution implemented makes full use of the potential of Eurofiber's infrastructure and know-how, providing the Group with many advantages.
Independent and redundant telecoms Infrastructures
Two different routes across the Eurofiber network, each with a distance of less than 80 km, link the P&V datacenter in Brussels with the one in Antwerp. Add two totally separate connections at each datacenter and you have a fully redundant infrastructure capable of handling even the most unexpected events.
Specific question, versatile answers
"The work that Eurofiber does is crucially important," explains Mark Scheers, Global Vendor Manager for the P&V Group. "All data, from customer information to the recording of telephone calls, is transmitted via the network and stored in duplicate at our two datacenters. "We needed an extremely stable and secure solution that we did not have to worry about. Eurofiber's solution fits the bill perfectly and allows our IT department to focus on value- added tasks that support our core business processes and improve the quality of service provided by all entities in the P&V Group."
"It is Eurofiber's versatility that is so impressive as part of our collaboration. The Eurofiber teams think with us and always take any issues we have into account, for example with regard to the timing of work carried out on the network.
Customer case
Read the full case
We would like to tell you more about this case and will help you to meet your challenges in digital transformation.