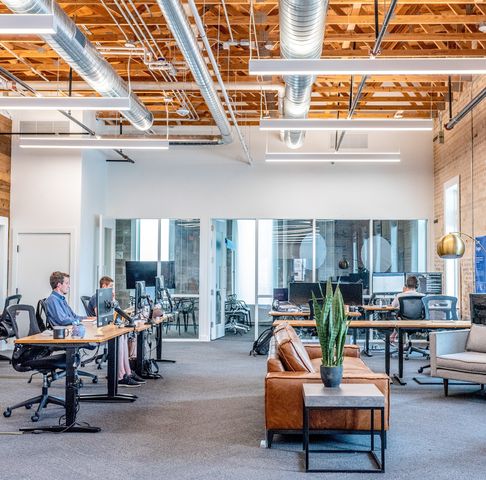 Lack of bandwidth: how does it affect working from the office?
Sufficient bandwidth is therefore a prerequisite for ensuring an efficient workplace. In this blog, we will tell you more about the consequences of a lack of bandwidth and how to solve this problem effectively.
Contact
Want to know more about the new way of working 2.0?
We are happy to help you.
We are producing, sharing and sending more and more data, while the number of (IoT) devices connected to corporate networks is also growing. This means that the demands on data traffic are also increasing. The need to send more data quickly fuels the hunger for more bandwidth.
Yet companies often underestimate the importance of sufficient bandwidth. Sometimes the wrong choices are made. In the age of hybrid working, location-independent access to applications and data is a must. You often have to communicate with colleagues, partners or customers from the office.
Sufficient bandwidth is therefore a prerequisite for ensuring an efficient workplace. In this blog, we will tell you more about the consequences of a lack of bandwidth and how to solve this problem effectively.
Problems with a lack of bandwidth
A good, stable internet connection is a prerequisite for working productively and efficiently from the modern workplace. A lack of bandwidth can seriously impede this process. For example, a lack of bandwidth makes it difficult to transfer and manage large files and data streams efficiently. A problem for companies that regularly work with heavy data such as video material and VR technology (streaming services, product configurators).
A lack of bandwidth can also cause applications and online meeting tools to malfunction. It's a real pain when your planning tool can't be reached to create and submit a weekly schedule, billing tools can't be accessed when it's time to prepare the monthly payments or one of the participants keeps dropping out of an important video meeting.
Bandwidth is also an important aspect of disaster recovery. A lack of bandwidth can prevent you from achieving the required RPO (the agreed maximum amount of data loss after a disaster or crash) or RTO (the agreed recovery time after such a disaster). This can have a negative impact on your business continuity.
The solution
Fortunately, there are proven ways to prevent or solve bandwidth problems.
Map out the needs in advance
Identify your current and future data and bandwidth needs at an early stage. In doing so, look at the following aspects:
What is the status of my data? It often helps to work with data categories such as gold (business or process critical data), silver (important, but not directly business critical information) and bronze (useful, but not essential data).
What does the application landscape look like? Does it contain many applications (e.g. video) that consume large amounts of bandwidth? And what applications do I expect to add to my IT ecosystem in the near future?
What about my hardware? Is it powerful and modern enough to meet data and bandwidth needs?
Identifying your bandwidth requirements will ensure that you don't under-purchase capacity, putting a strain on the availability and performance of your IT resources. But it also prevents you from buying too much capacity that you don't use but do pay for.
Choose a good service partner
Choosing the right service partner is also important. Ideally, they should have the technical ability and facilities to meet even the most challenging data needs and scale up or down bandwidth based on current demand. This way, you are always guaranteed excellent performance and availability, but you don't pay extra for unused resources.
Monitoring with capacity management
By regularly measuring the actual available bandwidth and capacity usage (capacity management), you can continuously check the available bandwidth against the actual requirements. Are you able to identify increased capacity needs at an early stage? Then you have the time to take measures before problems arise.
Capacity management can be carried out continuously and automatically using special monitoring tools. You can set these up yourself (in or around the router) or purchase them from an IT service provider. A speed test, for example, is a relatively simple but useful tool for measuring the current available bandwidth.
How does Eurofiber help?
As an expert and recognized specialist in the field of connectivity, Eurofiber helps you find the right solutions for demanding applications. With our Managed Dark Fiber you can easily allow the bandwidth to grow in line with your needs. Speeds of 100 GB per second or more are possible.
What's more, you determine entirely what you do with the connection and which applications you use it for.
Thanks to its speed and reliability, our fibre-optic network with national coverage is ideally suited for Ethernet services. With Eurofiber's Ethernet VPN you connect your headquarters, branches and datacenters securely and flexibly via a closed network customized for your organization. You can transport various services over this network, such as internet, telephony and video. By also connecting datacenters via the network, it is possible to centrally host applications and platforms.
Eurofiber WDM, which is equipped with very high bandwidths and low latency, also offers the high- quality connectivity needed to link databases, large office environments and cloud exchanges.
Business internet from Eurofiber offers your employees fast and reliable internet via our fiber-optic infrastructure. So your staff can browse, e-mail and work with cloud applications efficiently, without being hindered by long loading times, buffering and slow downloads.
Want to know more?
Do you want to be able to always count on sufficient bandwidth and the connectivity needed to allow business processes to run smoothly and without problems? With Eurofiber you have come to the right place. Curious about our solutions? Feel free to contact us without obligation by calling +32 (0)2 307 12 00 or e-mailing info@eurofiber.be.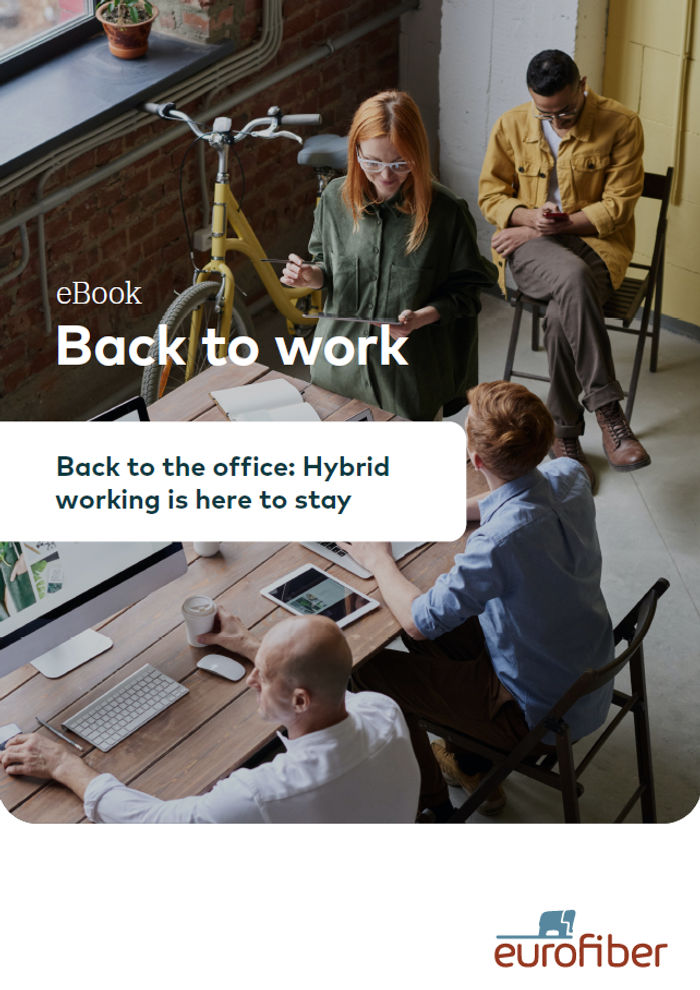 Download eBook Back to Work
Back to the office: Hybrid working is here to stay