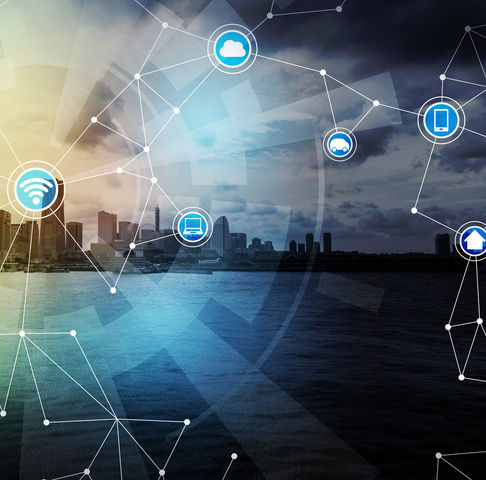 Eurofiber offers a complete portfolio for dedicated internet access and cloud usage
Fast, reliable, and secure internet access is an absolute requirement for organizations nowadays. To meet this requirement, Eurofiber supplies a broad portfolio of internet services and products.
Contact
Would you like to know more about our solutions?
We would be happy to help you.
Fast, reliable, and secure internet access is an absolute requirement for organizations nowadays. To meet this requirement, Eurofiber supplies a broad portfolio of internet services and products. And there is more in store according to Pierre Maron, Senior Product Manager Eurofiber Group, and Casper Gondelach, Technical Product Manager Eurofiber.
From network provider to complete access to internet and cloud platforms
"Internet access has evolved from 'need to have' to 'must have'. Organizations can no longer do without it. At Eurofiber, we have grown along with this evolution in internet use. In the beginning, we only offered access to our nationwide fiber optic network. But now we have a fully-fledged service and product package for dedicated and uncontended access to the internet and the most important cloud platforms," says Pierre Maron. "This is illustrated by our current dedicated Internet Access and Transit propositions. For internet access, for example, we offer seven variants ranging up to a symmetrical bandwidth of 10 Gb/s. If desired, we can also provide additional features, such as an anti-DDoS Scrubbing Center for incoming IP traffic and load-sharing functionality. That way, an organization can use two connections simultaneously in a fully redundant configuration. One of the advantages of the load-sharing functionality is that more capacity is available." The seven internet access products all have Eurofiber's solid and fast digital infrastructure as their basis. This premium fiber optic network, managed by Eurofiber itself, now covers the whole of the Netherlands and Belgium as well as parts of Germany and France.
Multi-sites internet
"We also have a product that meets the needs of organizations that want to connect multiple sites via a fast and reliable internet connection:  Multi-sites internet," explains Maron. "Our Multi-sites internet service offers organizations the opportunity to route mission-critical applications via the Eurofiber network without having to use the public internet. This enables us to offer both the desired security and the lowest possible latency. And when it comes to data communication with an external IP address, like that of a public cloud platform, we make sure it goes through our regular internet connections."
Cloud-specific connectivity
Pure internet access via Eurofiber's digital infrastructure serves as the basis for a series of additional developments. "This has grown almost organically: in some cases, we responded to client demands and in other cases, we anticipated the future needs of our clients," says Casper Gondelach. "This is certainly true for access to cloud platforms. Organizations often started with a regular internet connection to a cloud provider. But gradually, and certainly as cloud services became 'mission critical', the need for reliable, fast, scalable, and secure connectivity to the cloud grew."
Direct Internet Peering
According to Pierre Maron, Eurofiber now has an extensive range of services and products in its portfolio to meet the growing need for connectivity solutions specifically aimed at cloud computing. "We have Direct Internet Peering, for example, which goes a step further than ordinary internet access. The bottom line is that we have direct fiber optic connections with the data centers of the providers of the major public cloud platforms. That connection goes via the so-called private peering principle: we physically connect our fiber optic cable to one of the cloud provider's ports. We have built Direct Internet Peering with Microsoft cloud services, such as Azure and Office 365, with AWS, and with Google."
This enables us to better control bandwidths and quality. It also ensures that internet access is even more secure. Since data traffic doesn't detour through the internet on its way to the cloud, it is less susceptible to cyber threats such as DDoS attacks.
Secure Cloud Connect
For organizations that want maximum data security, Eurofiber offers a premium service: Secure Cloud Connect. Casper Gondelach explains, "In this case, we provide a connection over the Eurofiber private network. That connection is completely separate from the public internet. This enables us to offer Business Continuity through redundant traces and guarantee low latency to the desired Cloud Service Providers. It is the ideal solution for organizations that work with privacy-sensitive information, for example."
Would you, as a customer, like to help us think of ways to make our portfolio better suit your needs or your organization? Sign up by sending an email to: info@eurofiber.be
Stay informed about all developments
You will receive the newsletter once per trimester.