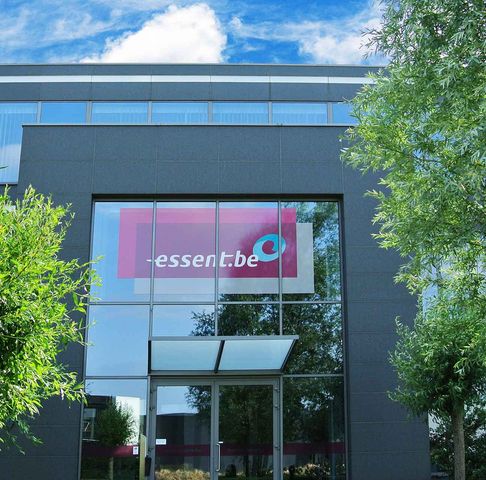 Essent.be: Service at the speed of light
Essent.be has grown its customer base fivefold over the past five years. As a challenger on the energy market, it knows it has to offer its customers exceptional service. 
Contact
Would you like to know more about our solutions?
We would be happy to help you.
Essent.be has grown its customer base fivefold over the past five years. As a challenger on the energy market, it knows it has to offer its customers exceptional service. That places high demands on its ICT infrastructure: all systems and data for contract processing and customer service must be optimally available. Two synchronously operating datacenters linked by a fast fiber-optic connection presented the energy supplier with the ideal, cost-effective solution.
Rapid growth drives investment in infrastructure
Essent.be has seen an exponential growth in its customer base in recent years. In order to ensure continued good service, the company needed to invest in its ICT environment. There is a great difference between an environment serving several tens of thousands of customers and an environment serving hundreds of thousands. The ability to deliver responsive, fast performance and high availability then becomes increasingly important. A key consideration in upgrading the infrastructure was the need to minimise the risk of our business systems failing
Two synchronised datacenters
Essent had a clear vision of its ideal new ICT infrastructure. Says Rousseau, "We wanted our new infrastructure to be configured for redundancy, with all the systems running synchronously in a datacenter at our new head office in Kontich as well as in a datacenter in Brussels.
Affordable fiber-optic connection the missing piece in the puzzle
Rousseau had difficulty finding an immediate solution. "Our telecom provider at the time could only provide a connection of a maximum 100 Mb/s, and at such high cost that I feared having to shelve my plans for an ideal ICT infrastructure entirely. The pieces of the puzzle fell neatly into place after just one meeting. Eurofiber was able to deliver a redundant 2 Gb/s high-speed connection between Kontich and Brussels, at a highly affordable price. And its partners could additionally provide us with the necessary services for disaster recovery and internet access.
Super-fast, ultra-reliable connection
Eurofiber installed a super-fast, dependable connection for essent.be within just a few months, including the time needed for permit applications and digging work.
Negligible costs
In the event of a systems failure in the external datacenter in Brussels, the connection ensures that essent.be can quickly continue working from Kontich. "The costs of the connection are negligible compared with the expense of being offline for an extended period. And the new configuration does more than just minimise the risk of costly downtime. It also enables us to connect locally with all the leading telecom operators in the external datacenter. This wide choice of operators allows us to negotiate on favourable terms. We can purchase services from the party offering the best price-performance ratio, instead of being tied to the standard, monolithic solutions offered by the traditional telecom operators.
The perfect match in coverage and method of working
After comparing price proposals from various local providers, AGC Europe in Belgium opted for the services of Eurofiber, signing a five-year contract.
Data and voice traffic
Today, after a flawless implementation programme, all of the AGC sites in Belgium have Ethernet VPN via fiber optic with a minimum bandwidth of 10 Mb/s. The larger sites, such as Mol, Fleurus and Moustier, have a 20
Mb/s or even 50 Mb/s connection so that they can handle larger volumes of data.
Absorbing peaks in traffic
The biggest advantage of the Eurofiber network is the shorter connections. In the main, the optical fiber network follows the path of railway lines. Having this extensive network enables Eurofiber to offer customised solutions and guarantee optimum availability of the circuit.
Customer case
Read the full case
We would like to tell you more about this case and will help you to meet your challenges in digital transformation.