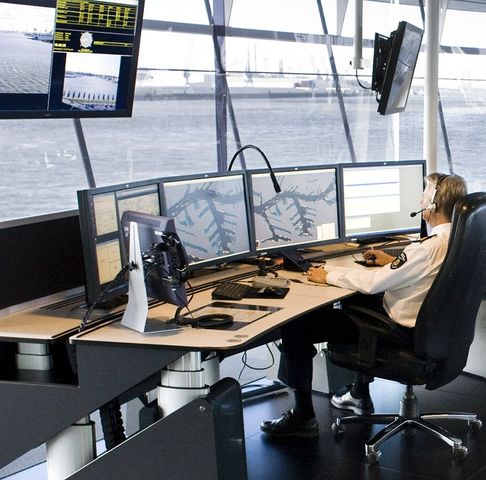 Optimal traffic flows due to fiber-controlled bridges and locks
An excellent example of a modernized approach to bridges and canal locks is the COB project launched by Waternet, which introduced centralized control systems. In a convenient eBook, Eurofiber mapped out how municipal governments have already set up successful smart city projects.
Contact
Would you like to know more about how fiber contributes to a smart city?
We would be happy to help you.
An excellent example of a modernized approach to bridges and canal locks is the COB project launched by Waternet, which introduced centralized control systems. Waternet is responsible for the entire water cycle in Amsterdam and the surrounding area. It can now uniformly and remotely operate 80 bridges and locks in the Amsterdam, Vecht and Eem areas from a central control station. The bridges and locks have been adapted to allow remote operations.
Shorter waits
All the bridges and locks are connected in the same ring-shaped network, installed along various waterways. This allows for optimal management of all the road and waterway traffic. Road traffic benefits from minimizing the inconvenience of open bridges, while ships enjoy shorter waits. After all, any delay means additional costs. Delays can also cost lives when it comes to first responders.
Green light for emergency services
With Waternet's smart network, an ambulance can drive through to the hospital without facing traffic jams or open bridges with all traffic lights set to green. Even if that hospital is in a different municipality than where the ambulance is coming from, dynamic measures along the route ensure that the ambulance does not encounter obstacles. The hospital is notified so there will be a medical team ready to save the patient's life upon arrival.
Redundant and secure
The chosen solution on the COB project was to lay six fiber rings based on Managed Dark Fiber, all of which converge at the control center and also at the back-up location of the disaster recovery center. Redundancy is a key requirement for the project, since any failure or outage will directly affect the flow of road and water traffic. Another important requirement is the security of the connections between the different bridges and locks. For example, hackers or malicious intruders should not be able to access the control center and open and close bridges.
Open infrastructure
Waternet opted for a Managed Dark Fiber solution, so the organization could install its own equipment on the network, allowing it to operate completely independent from any supplier. In addition, a Managed Dark Fiber connection can be set up to be fully redundant and well secured.
Direct control over bridges and locks
The fact that the fiber-optic network was constructed specifically for this project allowed for a ring-shaped (annular) connection that can link up to 20 locations. By connecting a maximum number of bridges and locks to a network and providing a dedicated connection between the locations, speed can be guaranteed. That means that a bridge will in fact stop immediately if the emergency button in the control center is pressed. A ring-shaped network requires less cable, which is more cost-effective and redundant by design. If a failure occurs at one place in the network, the locations in the network can still communicate with each other and the control center via the other side (left or right).
The COB project consists of a main control center and an alternate control center in case of disasters. The VHF radio, public broadcasting system, intercom, and, of course, the bridges and locks themselves can be operated from these control centers. In addition, there are video screens that show real-time camera images of the situation around the bridges and locks. The locations and control centers are connected via a dark fiber network to exchange data (audio, video and control data) at high speed without interference.
Modernized history
The canals of Amsterdam are part of cultural history. The COB project is making it possible to operate these historic locations in a modern way, providing an optimal infrastructure that facilitates efficient road and water traffic flows. This is just one of the ways that technology makes our lives easier, simpler and, above all, more enjoyable.
Do you also want real-time control?
Connect infrastructure and utilities, such as bridges, locks and power plants, to Eurofiber's fiber-optic network to facilitate remote operations. Centralized control gives you a better overview of all your locations and reduces response time. This improves safety and leads to more efficient ways of working.
Stay informed about all developments
You will receive the newsletter once a month.