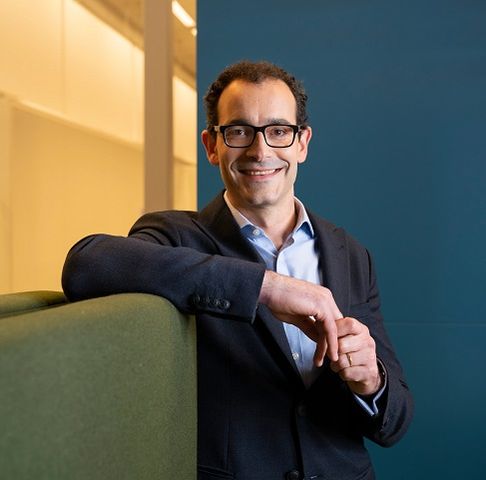 20 May 2020
Alex Goldblum on 20 years of Eurofiber: 'I'm enjoying the journey we're on'
Twenty years ago this month, two ambitious entrepreneurs founded a company that they called Eurofiber. 
Newsletter
Stay informed about all developments
Twenty years ago this month, two ambitious entrepreneurs founded a company that they called Eurofiber. Their first project was the RandstadRing, a 500-km connection linking the four biggest cities in the Netherlands. Eurofiber has thousands of customers by now, including companies, government bodies and non-profit organizations, relying on its own infrastructure with 36,000 kilometers of fiberoptic cable and eight datacenters. Eurofiber Group consists of Eurofiber, Dataplace, DCspine and French subsidiaries ATE, Eurafibre and Eura DC. Here's CEO Alex Goldblum on 20 years of growth and the steadily increasing relevance of the services that Eurofiber provides.
What was the idea behind Eurofiber's establishment in 2000?
'It was a time when copper wiring was the digital connection for companies, and fiberoptic was still primarily used as the backbone and for connections to big corporations. Even then, it was evident that fiberoptic would be the future of digital connectivity, simply because it delivered superior performance compared to other technologies. Eurofiber had a distinctive profile from the outset due to its open network. Dark fiber was where it started, but the concept soon developed into a philosophy founded on open networks. Where other providers viewed the connection as a vehicle for conveying paid services, we believed that digital connectivity should be open, not linked to other services. Customers should have complete freedom to choose the services, applications and providers they need. That vision is still alive and well at Eurofiber: we ensure that customers are free and can tap into the full potential of digital innovation. That's what brought us to where we are now: our role as a manager of vital infrastructure. Our networks and datacenters are the lifeline of the digital society.'
You joined the company in 2006. What was the appeal for you?
'When I joined Eurofiber, the fiberoptics market was already starting to grow, but it was really still in its infancy – and the same applied to the company. Effectively, we were still a start-up that employed about 30 people. It was extremely dynamic and exciting, and I saw huge potential in the company and in the market we were operating in. But what appealed to me most were the deep sense of entrepreneurship and the strong customer focus embedded in every fiber of the company. Anyone who works here realizes every day how crucial our services are to our customers, and acts accordingly. It's in our DNA.'
Eurofiber grew under your leadership, to its current size: 550 employees, 36,000 kilometers of fiberoptic cable, and eight datacenters. Do you sometimes miss the days when it was that close-knit group of 30 people?
'I realized recently that I no longer know the name of every single colleague in the company. In that moment, I did reflect on the early days when we were one big family. But we still have a close-knit culture of interconnection and engagement. That's what appeals to many new colleagues when they come to work here, and to customers and partners when they do business with us. But to answer your question: I am enjoying the journey we're on together, what we've achieved, what we are doing now, and what still lies ahead for us. I cherish beautiful memories, I'm proud of what we've achieved together since then, and I simply can't wait to embrace the adventure that awaits us.'
And now it's corona time…
'We had envisioned the celebrations somewhat differently; that goes without saying. But there are more important things happening right now that our anniversary, obviously. When you see the huge impact this crisis is having on society and on human health, then postponing our party is a very minor setback. We'll come back to it later!'
Newsletter
Stay informed about all developments
You will receive the newsletter once a month.